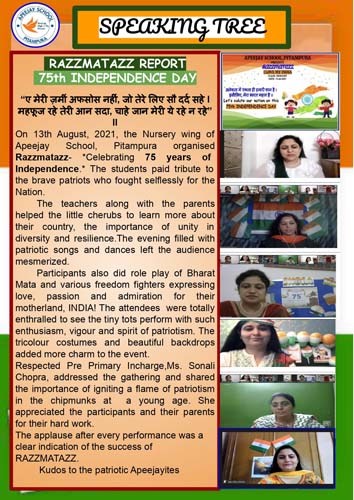 Delhi, August 13, 2021: The Nursery Wing of Apeejay School, Pitampura organised Razzmatazz – Celebrating 75 Years of Independence. The students paid tribute to the brave patriots who fought selflessly for the nation.
The teachers along with the parents helped the little cherubs to learn more about their country, the importance of unity in diversity, and resilience. The evening filled with patriotic songs and dances left the audience mesmerised.
Participants also did a role play of Bharat Mata and various freedom fighters expressing love, passion, and admiration for their motherland, INDIA! The attendees were enthralled to see the tiny tots perform with such enthusiasm, vigour, and spirit of patriotism. The tricolour costumes and beautiful backdrops added more charm to the event.
Respected Pre-Primary In-charge, Ms. Sonali Chopra, addressed the gathering and shared the importance of igniting a flame of patriotism in the chipmunks at a young age. She appreciated the participants and their parents for their hard work. The applause after every performance was a clear indication of the success of RAZZMATAZZ.