Premises
ASM is located in Dwarka, New Delhi, near Indira Gandhi International Airport, which is about 40 minutes drive from Connaught Place. It is situated in a calm and serene surrounding. The campus area is spread over two acres. The state-of-the art building housing the institute has five floors with a built-up area of more than 10,000 square metres. Besides ample classrooms, it has conference halls, seminar halls, an auditorium, open-air theatre, computer labs, and a library.
Library
ASM Library has a rich collection of books, both of Indian and foreign authors, on all the domains of Management, i.e. Marketing, Finance, Human Resource Management, International Business, Information Technology, Operations Management, etc. Currently, there are over 31156 volumes of books and more than 30 national/international journals/periodicals in the library.
ASM Library provides access to the following databases for teaching-learning and research: ABI Inform Complete Collection Database of Proquest, Prowess, Archives of Emerald Publishing Journals, National Digital Library and DELNET Services.
Computers
The institute has four air-conditioned labs. It has more than 150 computers with latest software and hardware and connected to Novel Network LAN. The students enjoy fast connectivity of the internet. Apart from this, each student has been provided with the latest version of personal computer/laptop for their use.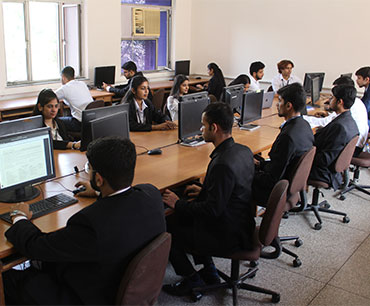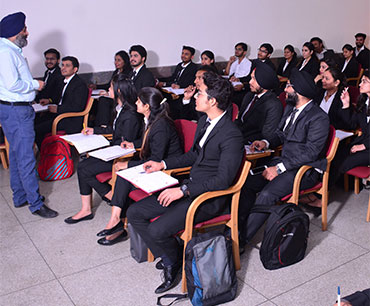 Lecture Rooms
The classrooms and syndicate rooms are air conditioned and ergonomically designed for seating comfort of the students. These have been developed into learning halls with right ambience befitting the conduct of management and information technology courses. Classrooms are also equipped with LCD.
Auditorium
The School has a state-of-the-art 400-seater air-conditioned auditorium, to host various academic activities, such as orgainising and conducting conferences, seminars, and symposia. The open-air theatre has stepped seating system for 350 persons for holding cultural and extra-curricular activities.
Cafeteria
Hygienic, nutritive, and a well laid-out cafeteria exists in the School premises for ready service to the students and faculty.
Seminar & Conference Halls
The school building has adequate number of well-furnished halls for conducting academic activities like EDPs, seminars, and conferences. Students get opportunities of interface with some of the best minds in their respective fields in these programmes.
The institute has its own facilities for drinking water, electricity, and fire fighting systems.